Pillow Switch
PRE-ORDER G-SWITCH SERIES GS07
1x G-Switch Series GS07 – Pillow Switch
1x User Manual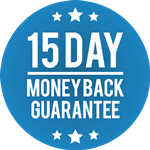 A durable switch option covered with soft cushion for users with less physical control. GS07 Pillow Switch provides 8.63cm activation surface, making the item comfortable enough for both user groups needing either a large or smaller target area to interact. Operated by 150g activation force, GS07 Pillow Switch has an auditory click and tactile feedback.
Pillow Switch comes with a 185cm long cable and a 3.5mm mono jack plug-in. Can be used with touch fastener straps and its attached safety pin to mount on fabric surfaces and wheelchair pads.
The delivery for this item will start on 1 May 2019.
---
---
Diameter: 96.9mm
Thickness: 31.55mm
Weight: 73±2g
Cable Length: 185±5cm
Activation Surface: 86.30mm
Activation Force: 150gr
Connection Type: 3.5mm | 1/8″